Army of Helaman Medallions Deluxe Display Tin Box - 2 coin set with bonus polishing cloth
Challenge Coin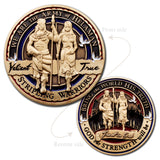 Deluxe set includes 2 identical DOUBLE SIDED solid bronze coins.
In Alma, chapters 56 and 57, we read the story of the 2,000 young soldiers of the people of Ammon who volunteered to fight in the great war between the Nephites and the Lamanites. This is the army of Helaman. Theirs is a story of faith and courage. With no previous experience, but with great faith, they went to war and fought with "miraculous strength" under the leadership of Helaman. They faced the Lamanites in many battles, but not one of them was killed. The years ahead will be full of opportunity and challenge that will test us every bit as much as the army of Helaman. The only sure power is to be as the army of Helaman and trust in God. The Helaman coin is carried as a physical reminder to be faithful and valiant as we move forward in our daily battles for truth and right. These challenge coins have great personal value to both men and women of every age and they provide a certain piece of mind simply by having it with you. 
Other symbolic design elements are also used to encourage thoughtful pondering.
Includes: Deluxe set includes 2 identical DOUBLE SIDED solid bronze coins (right side shows back, left side shows front), Vintage style aged tin presentation / display box with rubberized foam and clear window, and bonus 6 inch microfiber polishing cloth
Exclusive Design available ONLY through Armor Coin
1¾ inch · high relief · thick · antique bronze finish