Santa Claus - Always Believe Commemorative Coin
Challenge Coin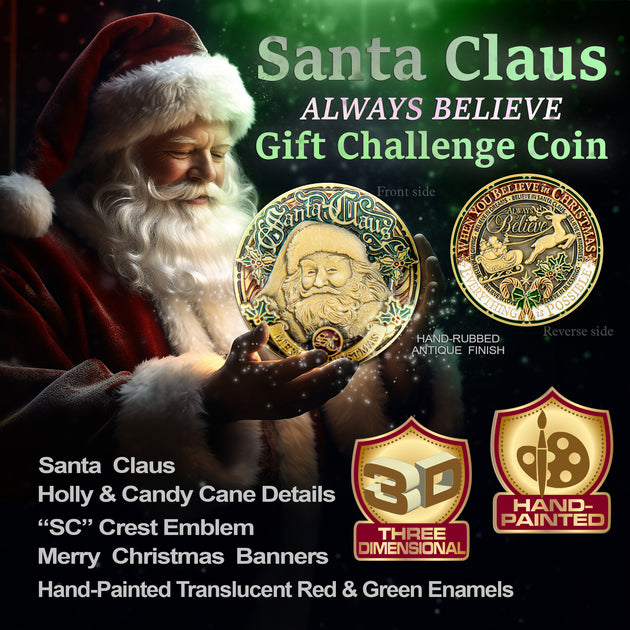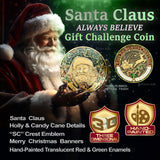 Introducing our Santa Claus Christmas Challenge Coin, a delightful and festive keepsake that captures the magic and joy of the holiday season! Crafted with the utmost attention to detail, this coin is the perfect addition to your Christmas collection or a heartwarming gift for friends and loved ones.
Key Features: 🎅 Santa Claus: The front of the coin features a beautifully embossed image of jolly Old St. Nick. Santa's friendly smile will instantly fill you with the spirit of Christmas.
🌲 Festive Background: Behind Santa, you'll find a background adorned with a detailed wreath and candy cane detail.
🎁 "Merry Christmas" Greeting: The front side proudly displays the words "Merry Christmas" and Santa Claus personal "SC" crest as a heartfelt greeting to all who receive this coin.
🔗 High-Quality Craftsmanship: Crafted from durable materials, this coin is built to last for years and is a true collector's item.
🎄 Perfect Holiday Gift: Whether you're looking to surprise a friend, family member, or colleague, this Santa Claus Christmas Challenge Coin is the ideal gift for spreading holiday cheer and celebrating the magic of Christmas.
👑 Unique Design: Don't miss the opportunity to own this exclusively designed coin. It's a unique piece that will become a cherished part of your Christmas traditions.
This Santa Claus Christmas Challenge Coin is not only a beautiful decoration but a reminder of the joy and wonder of the holiday season. Share the spirit of Christmas with loved ones or add a touch of festive charm to your own collection. Order yours today and make this holiday season even more memorable!
Manufactured by and available only through Armor Coin and Emblem
1¾ inch · high relief · thick · antique bronze finish · protective clear vinyl pouch included